The Client
Cisco Systems, Inc. is an American MNC headquartered in San Jose, California. It develops, manufactures, and sells networking hardware, telecommunications equipment, and other high-technology services and products.
BUSINESS IMPACTS/KEY RESULTS ACHIEVED
Cisco wanted a CloudTech unified management and orchestration solution for its cloud infrastructure. The company has accelerated the adoption of its new UCS data center management and orchestration CloudTech products among Fortune 50 early-adopter customers.
Business Challenges
With unified fabric-based data centers, like Cisco's UCS system, the key challenge was unifying the management of computing, network, storage, and virtualization into one platform. For Cisco, answering specific questions was an essential yet challenging task. These questions were: How can the management of all resource tiers in a data center be converged such that silos are eliminated and operational simplicity and elasticity is achieved? Will it be possible to integrate non-IT data center resources like heating, cooling, and power distribution to identify the optimum use of energy?
Zymr's Strategy and Solution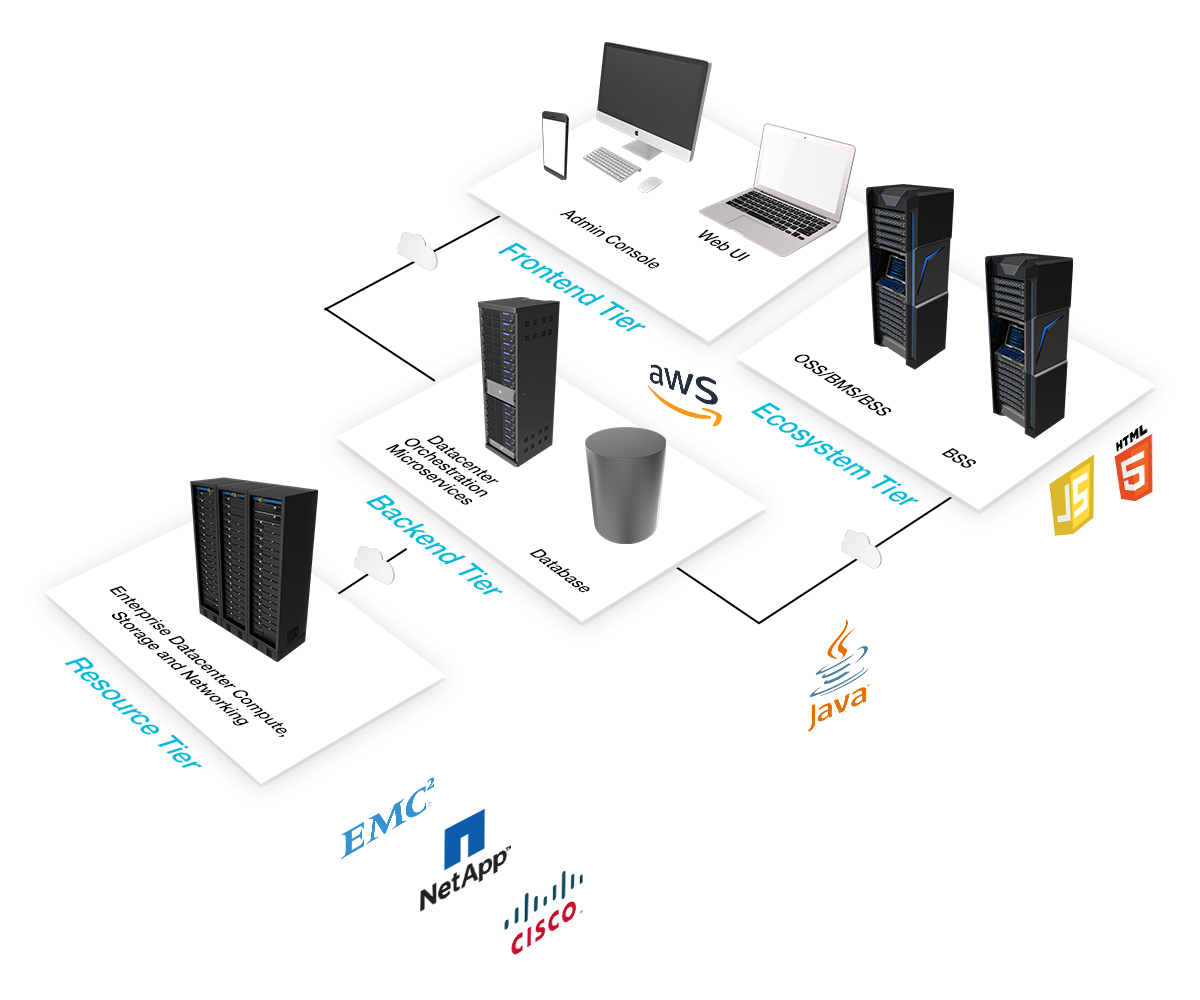 Zymr identified their requirements and built a comprehensive Datacenter Manager to supplement Cisco's own UCS Manager. The Datacenter Manager was well received by Cisco and was showcased to their top tier enterprise clients as a value-added software product. We implemented Cisco's Datacenter Manager by leveraging its proprietary, pre-built, Santa Fe cloud framework (see System Architecture diagram for details). We developed key microservices, a CMDB database and connected with various datacenter systems including Cisco UCS, VMware, and others. Some of the features which we implemented were CMDB ontology, Auto-discovery of IT, non-IT, VMs and application workloads, FCAPS, Policy Management, RBAC, logging, and reporting. Our team built a modern and responsive enterprise UI for Cisco's Datacenter Manager using JavaScript frameworks and by working with our in-house UX design studio. The UI features comprised of customizable dashboards, Rack View, Front-Panel view for Cisco UCS, geolocation maps, drag-and-drop policy designers, reporting and administrative features.